The Moffatts Aspire To Be Led Zeppelin
Thursday January 11, 2001 @ 10:00 AM
By: Debbie Bento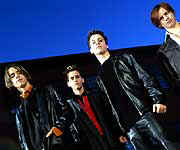 The Moffatts Take Their Show On The Road Starting Jan. 21
We went through a shock when it came to The Moffatts in 2000. These adorable four brothers almost overnight hit puberty and... grew facial hair. And on top of that, their polished, squeeky-clean boy band image did a complete 180 and they were foisted upon us again as - ahem - a straight-ahead rock band.
But time's passed. The initial shock is gone. Moffatt facial hair does keep growing, but response to the band is different now. Scott, the older Moffatt knows only too well, especially after heading to Asia - one of their biggest markets - for a six-week tour. He noticed one important thing: the screaming had stopped.
"On our last Canadian tour, we did it with Christina Aguilera and we noticed a huge change," says Scott, on the line from the home he shares with his famous brothers, just outside of Calgary. "The fans really listened to the songs. At the very end of the song they applauded and yeah they screamed, but during the song they actually listened to it. [In Asia] even on our hits, I guess, they stood up and kind of freaked out a bit, but on songs like 'Just Another Phase' and other songs that are more exploring and more experimental they actually took the time to listen to it."
There's an impressive mature confidence and level of understanding that comes from Scott Moffatt as he talks about his fans going from listening to Backstreet Boys to Limp Bizkit or Blink 182. This conviction and understanding is what happens after being in the business for over eight years, not to mention the fact that the band's constantly moving onto bigger and better things.
This brings us to their big-ass Canadian tour that kicks off January 21. But you'd imagine this new Brit-rock Moffatt sound and look to have them playing alongside the Our Lady Peace's and I Mother Earth's of the world. But Wide Mouth Mason?
"It was our choice [to put them on the tour]," says Scott firmly. "One of our monitor/guitar techs lives in Halifax and had done a few gigs with them and he just basically played us their stuff and we just thought they were a really cool band. We wanted to do a tour where both bands are diverse but also have somewhat the same direction. We both wanna do stuff that necessarily isn't radio-friendly, we wanna do stuff that's more experimental. We're both very much guitar-driven bands. We've heard that they're great guys so that's something we want to bring to the tour - a band we can actually get along well with."
Get ready for more Moffatt changes coming your way in 2001. The third single out will be "Walking Behind," brother Bob just shaved his head out of boredom ("He just wanted to get rid of it. There's no motive behind it. It's just kind of a spontaneous thing"), and they're still working hard to achieve their ultimate goal of becoming another Led Zeppelin. Big ambition for a band of teenagers, but they love the lore of rock 'n' roll, so hey, it's no surprise.
"We're just re-educating people to what the Moffatts are about. With this new tour we have the opportunity to do that," explains Scott. "Also, the reviews we've had on this record have impacted people in a different way, you know, taking a second look. It's just a matter of continuously showing people the Moffatts aren't Chapter 1:The Beginning, they've evolved. With the next album we're gonna change more. We're gonna become a bigger and better band."